Ngoc Vung Island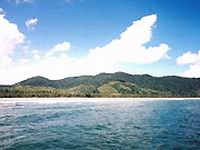 Ngoc Vong, or Gem Island, is a pretty site sitting between the Net Islet and Phuong Hoang (Phoenix) Island, in the Van Don District.
From above, Ngoc Vong looks like a beautiful velvet handkerchief with exquisite white edgings; it seems to float on the water surface. On the east side of the island there is a kilometres-beach with pure white sand. At the centre is a luxuriant benjamin fig tree; it was under this tree that Ho Chí Minh stood and conversed with the population in 1962 during a visit.

Formerly, under the feudal dynasties, this island zone contained a great quantity of rare and precious species of mother-of-pearls. At night, fluorescent pearls would light up the whole region. So there are several islands having name "Ngoc" such as Ngoc Vung (dazzling pearl), Minh Chau (Ngoc Chau)...

During the war against the US, the island belonged to a front of outward islands that served as protection for the eastern waterways.

It is also on the beach that many stone artefacts were discovered in 1937, opening a string of excavations and archaeological research aiming at providing some explanations of the mysteries of the ancient Ha Long culture.
Ha noi
Condition:Mostly Cloudy
Temp: 72 °F| 22 °C
Ho Chi Minh
Condition:Partly Cloudy
Temp: 81 °F| 27 °C
Phu Quoc
Condition:Mist
Temp: 71 °F| 22 °C
Da Nang
Condition:Light Rain
Temp: 77 °F| 25 °C