Ha Long Bay's evaluation and Praises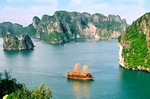 Throughout the ages many famous men, from both home and abroad, when faced with the beauty of Halong's sky and water have sung its praises in different ways, especially in poems.
In the 15th Century, Nguyen Trai (1380 – 1442), a great national poet visited Halong and spoke of:
"The way to Van Do has so many mountains
Nature has produced a wonder in the immense space
The vast blue sea looks like a grandiose mirror
Reflecting innumerable black mountains".
(In 'Van Don' poem by Nguyen Trai, Complete Works, History Institution, Socio and Science Publishing House, HN 1976, pages 312 - 322).
King Le Thanh Tong (1442 – 1497) on a walking tour to An Bang (old name of Quang Ninh Province) was surprised by Ha Long's beauty. He composed a poem and carved it on the wall of the mountain, praising the grace of Ha Long as follows:
Hundreds of water currents flow around mountains
Scattered islands look like a chessboard of sea joining the sky, both azure blue
Invaders are always expelled by Viet people
Stopping aggressive war and developing the country.
(Quoted from the poem "Bai tho de vach nui cua Thien nam dong chu" written by King Le Thanh Tong. The national center for Science, Society and Humanity. Vietnamese language Institute. Socio and Science Publishing House, Ha Noi, 1994.
Over 100 years ago, the French Journalist John Rey praised Ha Long: " In the brilliant light of the tropical sun, the sea surface, dark and light, here and there in the shadow of limestone mountains, is really an indescribable, fanciful scene. Sunset looks like a flaring fire, throwing all the islands into a fairyland."
In 1927, Emile Cordonnier wrote an article, "Halong Bay – a peaceful and beautiful place of Indochina" described it thus: "...Thousands of mountains rising from the water surface flaunt wonderful blocks of marble, images are merged together to create a marvelous picture. This scenery appears like a dream with tall pillars of rock and rugged islands rising from the clean waters of Halong Bay. The landscape here always keep calm and peaceful...". (According to Quangninh Newspaper, 15th January, 2000)
Famous contemporary poets went on a sightseeing tour to Halong, which kindled their poetic inspiration:
• Xuan Dieu, "the prince of Vietnamese poetry " expressed his great emotion:
" ... Here are laid half-made things
Mountains, islets, clouds and stones are disorderly scattered
In their game, the ancient giants threw the stones
From the trees is still smelt the after taste of ancient times..."
(The poem "Salute to Ha Long")
• The poet Che Lan Vien also described the marvelous scenery of Ha Long:
" No dragon shadow appears on Ha Long Bay
Wave embellished by the dark blue color passes hundreds of miles
The June sky makes the water twinkle likes silver lusters
Like seas smashing into the hull
Our boat passed by sunny thrones,
Vong Phu stone woman waits for her far-away husband,
As mountains have no human breath, birds come to build their nests,
To help stone mountains calm
Their sadness..."
(Passing through Ha Long)
Nowadays, many domestic and international politicians, poets, cultural celebrities and tourists make the same comment when they visit Halong Bay: "If you haven't visited Ha Long Bay, you haven't been to Viet Nam."
Chairman Ho Chi Minh (1890 - 1969) - a world cultural celebrity, and great hero of Vietnam, on his visit to Dau Go Cave in October, 1957, said: "A marvelous scene that no one person could communicate to another. Both you and I must enjoy it together."
The former Prime Minister Pham Van Dong wrote about Ha Long Bay with a poet's eye "Here (Ha Long Bay) is it one scene or many scenes? Is it an earthly scene or what kind of scene?"
General Vo Nguyen Giap, a great general expressed his feelings "Ha Long Bay is a wonder of the world. We must take the responsibility to preserve, embellish and introduce it to world." (July, 30th, 1999).
The General Secretary of the Socialist Republic of Vietnam, Nong Duc Manh on his visit to Ha Long Bay on 29th October, 2001, wrote: "Ha Long Bay, a wonder bestowed by nature, a world heritage, an everlasting symbol of our lovely Vietnamese nation, is the pride of our people. All Vietnamese generations today and in the future must make the best effort to maintain, conserve and promote the great values of Ha Long Bay so that Ha Long Bay will be not only be a domestic tourist destination but also the rendezvous place for friends worldwide."
In recent years, Halong Bay has been honored to welcome many international delegations, including the leaders of many countries of the world.
The Prime Minister of the Peoples' Republic of China, Ly Bang on his visit to Vietnam 9th September, 2001, spoke off the cuff, "The beauty of Ha Long Bay makes us lose the way back."
The Chairman of the Mongolian National Assembly, Tumar Oder, praised Halong Bay: "This is an area with approximately 2,000 islands, including the World Natural Heritage Site recognized by UNESCO. The Vietnamese call this the land of descending dragons. Ha Long Bay is a uniquely beautiful place in the world and is internationally admired and enjoyed. (8th January, 2002).
The Chairman of National Assembly of Bulgaria Republic praised Ha Long Bay and the Vietnamese people, "Thank you very much for your warm welcome to us. Nature here is so beautiful but the people's heart is even greater. That is our heart felt feelings about the Vietnamese people." [ 6th March, 2004]
The Swedish King , Carl Gustaf XVI, praised Ha Long Bay on his trip, 2nd February, 2004, "We have heard and read a lot about this beautiful and attractive country before our visit. We don't feel disappointed - but highly appreciate the natural beauty of the Bay." (According to Quang Ninh Newspaper)
Ha Long Bay will remain an attraction for many artists, an endless source of inspiration for the soul
Documents relating to Ha Long Bay's landscape:
1. Ha Long Bay - A World Heritage, published by Ha Long Bay Management Department, 2002.
2. Quang Ninh Profile, set 3, published by Quang Ninh Provincial Communist Party and Quang Ninh Provincial People's Committee, 2003.
3. World Heritage in Youth Hands, the core curriculum for teachers, set 2, published by the National Commission for UNESCO in Vietnam, 2002.
4. Almanac, World Civilizations, written by many authors, published by the Culture - Information Publishing House, 1996.
5. Well-known Heritages of the world, written by Tran Manh Thuong, published by the Culture - Information Publishing House, 2000.
6. The File submitted to UNESCO for recognition of Ha Long Bay's aesthetic value, Ha Long Bay Management Department.
7. Ha Long - Stone and Water, written by Nguyen Ngoc, published by Ha Long Bay Management Department.
8. Weekly Ha Long Newspaper, Weekly Quang Ninh Newspaper,Monthly Quang Ninh Newspaper.
9. Ha Long Bay, Photo book of Do Kha, published by Quang Ninh Culture and Art Association, 2000.
10. Ha Long Bay Documentary Film, VCD, including commentary by writer Nguyen Ngoc, published by Ha Long Management Department, directed by Le Duc Tien.
11. Ha Long Bay - Evaluations and Praises, published by Ha Long Bay Management Department, 2001.
12. Quang Ninh Landscape, published by Quang Ninh Landscape Management Department.
13. Photos and leaflets on Ha Long Bay and other materials.
Ha noi
Condition:Mostly Cloudy
Temp: 72 °F| 22 °C
Ho Chi Minh
Condition:Partly Cloudy
Temp: 81 °F| 27 °C
Phu Quoc
Condition:Mist
Temp: 71 °F| 22 °C
Da Nang
Condition:Light Rain
Temp: 77 °F| 25 °C