Melia Hanoi Hotel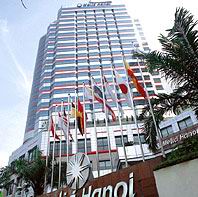 :
44B Ly Thuong Kiet, Hoan Kiem
The luxurious 5-star Melia Hanoi is located right in the city center of Hanoi, inside the diplomatic and financial district and close to main tourist attractions, entertainment and shopping areas: Most ministries and embassies are located within 1 km distance.
- Price:


| | | |
| --- | --- | --- |
| Room type | Single | Double |
| Standard | $125 | $125 |
| Superior | $185 | $185 |
- Location:
* From AirPort:
o International Airport, turn right and go straight to Bac Thang Long - Noi Bai highway, Xuan Thuy Road, Kim Ma Road, Nguyen Thai Hoc Street, Phan Boi Chau Street, Hai Ba Trung Street, Tho Nhuom Street, Ly Thuong Kiet Street, Melia Hanoi Hotel.
o By taxi: Call 8555555/8568686/8241999/8252525. Cost is about $10-25
* From Railway station
o By car: Drive to Tran Hung Dao Street, turn left on the first conner, turn right on Ly Thuong Kiet Street
- Accomodation:
Room Facilities
- Daily buffet breakfast
- Free entrance to Swimming pool and Fitness center
- Complimentary Daily Local English newspaper
- Exclusive check-in and check-out at the Executive Floor Reception
- Welcome drink up on arrival
- Airport meeting and pick up service
- 24-hour Room Service
- Broadband Internet from 10th floor to 16th floor.
Deluxe Room
238 rooms, furnished with full-length windows, large king-size beds, large working desks with executive chairs as well as well-stock mini bars and refrigerators.
Executive Suite
Said to be the best ones in Hanoi, being superb of its luxury, warm but spacious, terrific view of historic Sword Restored Lake and the Old Quarter of Hanoi. 66 Suites with a living room, a cozy bedroom, two satellite channel large TVs, one rest room and a spacious bathroom with a vast bath-sink and a cubical standing shower.
Grand Suite
135 sqm. Located on 21st floor, the Grand Suite features an widely panoramic view of the city, luxury accommodated and fully convenient furnished. Vast living room and entertainment area integrates luxurious bar, dinning table and relaxing sofa. Hifi entertainment surround-sound system with one of two satellite-channel TVs is 43" inch flat screen.
Presidential Suite
165 sqm. Decorated with top luxury funitures, living room with Hifi surround sound system, relaxing sofas, luxury bar and dinning table. The bedroom is marvelous for its spacious, view and decoration.
- Restaurant & Bar
Latino Bar
Hanoi's first authentic Tapas bar. 30 types of Tapas. 70 exotic cocktails and a wide selection of wines from Spain, Chile and Argentina.
Live Latin music nightly: Salsa and South American.
Location: on the 3 rd floor
Open daily from 11.00 am till late.
El Patio Restaurant
The El Patio Restaurant is a spacious modern restaurant with a distinct Mediterranean feel and located on the ground floor. Enjoy the scents of Vietnamese spices, the heat of Thai chili, aroma of freshly baked breads or a smooth ice cream at our vast international buffet breakfast, lunches and dinners as well as all day a la carte.
El-Oriental Restaurant
An Elegant Vietnamese Restaurant with emphasis on seafood. You can hand pick an impressive array of seafood from any of the restaurant's six aquariums to be prepared by our talented chef. There is live traditional Vietnamese performance on a regular basis.
Open daily from: 11:30 a.m. - 2:30 p.m. & 5:30 p.m. - 10:30 p.m.
Lobby Lounge
Spacious but cozy Lobby Lounge located on the ground floor, serves snacks & drinks with live music in the evening. Relax after a busy day, live entertainment nightly by Meliá Sunshine Quintet band.
Afternoon tea: 15:30 - 17:30.
Executive Lounge
The Executive Lounge located on the 20th floor, serves breakfast, afternoon tea and evening cocktail for the Royal Services floors, viewing to charming Restored Sword Lake - the Heart of Hanoi, West Lake - the Lung of the city and recently-excavated Citadel of Vietnam.
Melia Deli
Enjoy tempting & original homemade breads, delicious cakes, sweets, ice-cream and pastries.
Location: Lobby area
Operating hours: 8:00 - 21:00
Daily Happy Hours: 5:00 p.m. - 9:00 p.m. with 50% discount.
- Meeting & Banquet
Ballrooms
The Meliá Hanoi Hotel features the largest pillar-less Ballroom in Vietnam. This Hall can be divided by movable partitions into 3 sections, each connecting to a large foyer/exhibition area. At full capacity the Ballroom houses 1200 delegates for meetings and 800 guests for sit down banquet functions. Located right at the 1st floor, Grand Ballroom is easily accessed by 6 guest lifts or 2 escalators and has the ceiling height of 7m.
Business Center
Our Business Center provides the full range of business assistance services. PCs with broadband Internet connection facilitate fast Internet surfing, email, instant messaging, secretarial services, office softwares, internatinal facsimile, printing, photocopying, photo scanning and broadband wireless Internet WIFI.
Function rooms
Meliá Hanoi can host your function of any sizes as featured 7 function rooms with capacities from 70 to 200 guests. These are the best venues for small and medium meetings. Some function rooms can be combined to extend the capacity.
Boardrooms
Executive Conference room and Royal Service Executive board room.
Can host from 8 to 12 person meeting. Executive Conference room is located at the ground floor and Royal Service Executive Boardroom is on 20th floor. If you stay at Royal Service Executive floor, you can use the boardroom for three hours free of charge, subject to availability.
- Sport & Leisure
Swimming Pool
By three storeys above Hanoi's hustle and bustle, our pool is really a serene oasis for a perfect tan or a cooling swim. There also is a small pool for small children beside. Free access to swimming pool is a given benefit to all in-house guests. Go there now to relax and rejuvenate, you will be memorized by the pleasant surroundings and attentive service.
Fitness Center
Fully equipped gymnasium with state-of-the-art equipments allow you to keep up your regular fitness routine. With a complete array of exercise equipment and the professional trainers, you'll find that working out has never been easier and we will make your practice more effective and enjoyable. Access to fitness center is free of charge for all in-house guests.
Oasis Beauty Salon
The Salon offers an incomparable selection of beauty treatments from hair styling, facial care, skin care, body care, beauty soothing massages, manicures, pedicures and nail art.
Oriental Style, Boutique & Jewelry Shop
Located right at the hotel lobby floor, Meliá Hanoi shops offer full range collections of souvenirs, jewelry, silk textiles & scarves, handy-crafts, wood carving & sculptures, silver ware, bronze ware, lacquer ware, home accents, decorative, unique handmade items, postcards and newspapers.
- Hotel amenities
Airport meeting and pick up service
Rooftop Heliport
Banquet & Meeting Facilities
Business centre
24 Hour Housekeeping
Baby-sitting service
Daily newspaper
Baggage storage
Doctor on call
Wheelchair available on request
Foreign currency exchange
24 hour room service
5 level parking Lot for 250 cars
Gift Shops
Laundry & Dry Cleaning Service
Swimming Pool
Fitness Centre
Massage Service
Hi speed Internet
Wireless Broadband Internet
- Policies:
Children policy: accommodation
No additional charge (room only) for children up to 12 years of age sharing room with parents without extra bed. Extra bed is chargeable at above indicated rate.
Children policy: meals
50% discount on buffet meals only for children below 12 years of age.
Check-in time is 13.00 hours and check-out time is 12 noon.
Reservations will be held till 18.00 hours only, unless guaranteed by Credit Card or advanced deposit.
Group Concession Policy
For every 10 paying rooms, one complimentary room, up to a maximum of two complimentary rooms to be accorded for the use of the tour leader.
Deposit - Billing Procedures
For all groups, prepayment is required as per the following schedule:
* 25% deposit on the total accommodation charges at least 30 days prior to the group's scheduled arrival,
** 50% deposit on the total accommodation charges at least 14 days prior to the group's scheduled arrival together with the preliminary rooming list,
*** The balance of charges should be settled before the group's departure.
The Hotel reserves the right to release all rooms not guaranteed by the deposits on above-mentioned dates, unless separate written agreements have been made. Group Rooming list / Release Period
For all groups, a complete Rooming List must be received by the Hotel at least 7 days prior to the group's scheduled arrival and must include flight information and meal requirements. The Hotel reserves the right to release all rooms, if this requirement is not met. Cancellation / No - show Charges
For guaranteed FIT reservations, there will be no cancellation charges, if a written notice is provided at least 72 hours prior to arrival date. Any FIT reservations cancellations within 72 hours to arrival date (with or without written notice) or in the event of a no-show, one night's contract rate will be charged. For all groups, a written notice must be received by the Hotel at least 14 days prior to the group's scheduled arrival. If this written notice is not received within the time limit stated or in the event that there is no-show from the group, the deposit will be forfeited automatically.
Credit facilities
In the event you may choose to establish credit facilities with MELIA HANOI, an application form for credit facility for approval is available upon request.
Payment
In case you do not have existing credit facilities with MELIA HANOI, payment in full for all charges in cash, by credit card (MELIA HANOI accepts American Express, Visa, Mastercard, Diners Club and JCB Card), bank draft certified by the bank or by money transfer in US Dollars must be settled before check-in, unless separate credit agreement has been made between both contracting parties. Please take note that if you have credit facilities with the Hotel, payment in full has to be settled within 60 days after check-out. MELIA HANOI is entitled to charge you a 2% (two percent) late payment fee on due amounts in US Dollars, in case the payment due to the Hotel is late (outstanding not settled within 60 days agreed by both contracting parties).MELIA HANOI reserves the right to adjust rates agreed within the contract period in the event of tax alterations by the Government and service charge amendment.