Grilled Calamari with Steamed Rolled Pancakes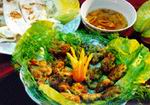 In all the coastal regions of Vietnam, squid can be found. Those in Nha Trang are renowned for their large size, while in Ha Long they are famous for their original taste. Squid is usually sun-dried and then grilled, or also browned in fat.
Processing chả mực (chopped and grilled squid) requires clever hands and experience, from choosing the squids to dissecting its bowels, ink-vesicles and removing the outer skin. Ingredients are added, its flesh is pounded and finally it is cooked in fat. After browning it turns a deep yellow, and acquires a pervasive fragrance and sweet taste. It is often eaten with steamed rolled rice pancakes or with glutinous rice. In Ha Long City, there is a whole street of households specialized in making this dish near Bạch Ðằng Thearter called "Grilled Calamari With Steamed Rolled Pancakes Street" (phố chả mực bánh cuốn).
Ha noi
Condition:Mostly Cloudy
Temp: 72 °F| 22 °C
Ho Chi Minh
Condition:Partly Cloudy
Temp: 81 °F| 27 °C
Phu Quoc
Condition:Mist
Temp: 71 °F| 22 °C
Da Nang
Condition:Light Rain
Temp: 77 °F| 25 °C