Cong Do Island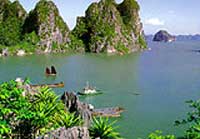 On the south-east side of Halong Bay, about 25km from Bai Chay Wharf, Cong Do is in Bai Tu Long Bay in the region which recognised as the World Heritage.
It has an area of 23,363m² and its mountain reaches a peak of 172m.

The island features many lagoons, which are the residence of numerous species of sea-life, such as shrimp, crab, fish, squid and aquatic plants. On the south-west side of the island, there is a wide coral reef displaying a myriad of colours. Coral reef ecosystem is more than 700m long and 300m wide. It is preserved almost undamaged.

In the future, there are plans for the development of a zone for scuba-diving. On the south-east side of the island, vestiges of the ancient commercial port of Van Don were discovered. This confirms beliefs that Cong Do Island once held an important position in terms of foreign trade.
Ha noi
Condition:Mostly Cloudy
Temp: 72 °F| 22 °C
Ho Chi Minh
Condition:Partly Cloudy
Temp: 81 °F| 27 °C
Phu Quoc
Condition:Mist
Temp: 71 °F| 22 °C
Da Nang
Condition:Light Rain
Temp: 77 °F| 25 °C