Hoang Gia International Park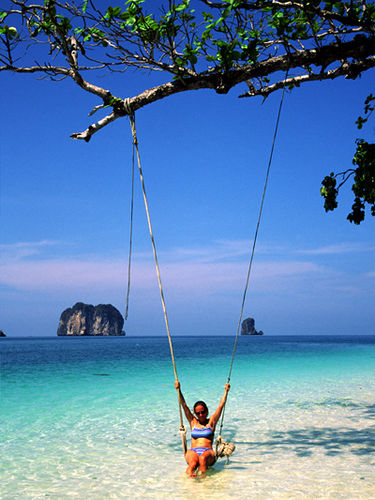 Hoang Gia International Park or Royal Park runs along Bai Chay Beach, from Bai Chay Tourist Wharf to Hạ Long Night Market. It is a comprehensive resort totaling 8 ha including Zone A, Zone B, Zone C, Royal Villas and Hotels. Restaurants in the park serve European, Chinese, and Vietnamese food and seafood. You can enjoy yourself to the fullest with the entertainment and recreation services: 400 m artificial beach, bars and bathing services center, emergency station, park, garden of birds and orchids, archery grounds, cactus, sensation train, ghostly house, discotheque, karaoke bar, electronic car, art gallery, open-air stage, water puppetry and traditional music and singing; museum; quay for sight-seeing tours.
Add: Hạ Long St., Bai Chay, Ha Long City
Tel: 846 658
Fax: 847 148
E-mail: royalivc@hn.vnn.vn

About 500 m from Bai Chay is Reu Islet, an attractive eco-tourist site. The park has available canoes for tourists visiting this island.

In the future, Hoang Gia International Joint-venture Company (Taiwan) continues investing in building more facilities to serve tourists.

Zone A
Vietnamese Restaurant:
Seating capacity: 300
Opening time: 10:00-20:30
Serving European-Asian dishes and traditional Vietnamese food prepared by experienced chefs.

Discotheque 2000
Seating capacity: 200
Opening time: 16:00-24:00
(Entrance ticket required)

Green Bar
Seating capacity: 90
Opening time: 7:00-23:00
Serving good quality wine, soft drinks and cakes.

Speedboat Club:
Opening time: 9h 30 -18h 30
Two-seat Jet ski: 15 mins US$ 18 VND 260,000
Three-seat Jet ski: 15 mins US$ 20 VND 300,000
Five-seat Sportster: 1 hour US$ 100 VND 600,000
Banana rubber boat: 5-7 mins US$ 4 VND 60,000
Parascending: 5-7 mins US$ 15 VND 150,000
1 hour US$ 100 VND 1,300,000

Zone B (entrance fee required)
National music performance stage:
Area: 1,000m² with 453 seats.
Performance time: 19h30; 21h45

Water puppetry performance stage:
Area: 1,000m² with 453 seats.
Performance time: 18h30; 19h45; 20h45.

Antiques Museum:
Area: 1,300m².

Fine-art gallery:
Area: 1,000m²

Orchid exhibition House:
Area: 350m²

Cock-fighting:
Opening time: 18h00; 18h30; 19h00

Ghost house
House-on-stilts souvenir shop
Phoenix Viking Ship
Children's entertainment area

Zone C
In the near future, this area will become an entertainment and leisure complex, with a swimming pool, physiotherapy room, motorboat and a Beach Service Centre.

Royal Villas and Hotels
14 rooms are now in operation and fully equipped with modern international standard facilities.

Rều Islet
An islet with attractive scenery, not far from the shore. Rều Islet will soon become a centre for information about Hạ Long Bay with an exhibition room introducing the bay, an aquatic ecological zone, a rare animal zoo with several kinds of rare birds and animals namely python, ostriches, dwarf horses, fish, and ornamental trees.

It also provides a wide range of services such as restaurant and open-air bar, park, and canoes for cruising around, massage area, souvenir shop and water palace.
Ha noi
Condition:Mostly Cloudy
Temp: 72 °F| 22 °C
Ho Chi Minh
Condition:Partly Cloudy
Temp: 81 °F| 27 °C
Phu Quoc
Condition:Mist
Temp: 71 °F| 22 °C
Da Nang
Condition:Light Rain
Temp: 77 °F| 25 °C