An Sinh Temple and Tran Tombs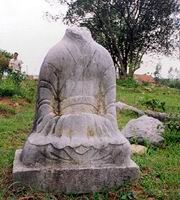 The temple and tombs of the Tran Dynasty are situated in the An Sinh Commune, Dong Trieu District. They are scattered on an area of 20 km in radius, dedicated to the eight emperors of the period.
They were built in the period of Tran Dynasty and restored many times under the following Le and Nguyen dynasties. Apart from the building of ceremonial shrines at every tomb, the Sinh Temple was also built with many large shrines for the celebration of anniversary ceremonies. The whole zone became a sacred area held in solemn reverence throughout the Tran, Le and Nguyen dynasties.

Over time, the area has severely deteriorated, but today, is gradually being restored.

Sinh Temple Area belongs to Nghia Hung Hamlet which is used to dedicate 8 kings of Tran and the tombs of Tran Thai Tong, Tran Thanh Tong and Gian Dinh De. Tran Anh Tong Tomb is located in Loc Camp, Tran Minh Tong Tomb is in Khe Gach, Tran Hien Tong Tomb is in Ao Beo, Tran Du Tong Tomb is in Dong Tron, Tran Nghe Tong Tomb is in Khe Nghe areas. Besides the constructing the temple in each tomb for dedicate, many big temples were built in Sinh Temple Area by the court for respect-paying audience. It was defended carefully by mandarins. This area became solemn holly land through Tran, Le, Nguyen dynasties.

Ha noi
Condition:Mostly Cloudy
Temp: 72 °F| 22 °C
Ho Chi Minh
Condition:Partly Cloudy
Temp: 81 °F| 27 °C
Phu Quoc
Condition:Mist
Temp: 71 °F| 22 °C
Da Nang
Condition:Light Rain
Temp: 77 °F| 25 °C