Ba Mun Island and Primitive Forest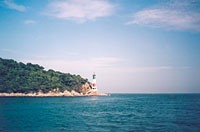 Ba Mun Island is a schist island belonging to the Minh Chau Commune, Van Don District.
It stretches out parallel to Quan Lan Island, separated by the Doi Gate that runs in a north-east direction. It has the other name, Cao Lo Island. It is 15 km from the shore, 1,800 ha in area with more than 20 km long and narrow wide. It consists of a narrow stretch of earth and stone that runs east to west. The highest peak is Quit Mountain with a height of 397 m. The fauna and flora here are very plentiful. There are many rare species.

It is the only island in Ha Long Bay that is home to a primitive forest. There are countless species of plants and trees, some with giant trunks. This forest is also home to many rare animals such as chamois, deer and monkeys. It is said that many years ago tigers, panthers and elephants once resided on the island. In order to help preserve the forest, on 24 January 1997, the government recognised it as a national park.
Ha noi
Condition:Mostly Cloudy
Temp: 72 °F| 22 °C
Ho Chi Minh
Condition:Partly Cloudy
Temp: 81 °F| 27 °C
Phu Quoc
Condition:Mist
Temp: 71 °F| 22 °C
Da Nang
Condition:Light Rain
Temp: 77 °F| 25 °C