Long Tien Pagoda Festival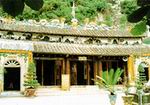 Place: Long Tiên Pagoda at the foot of Bài Thơ (Poem) Mountain, Hạ Long City.
Time: The official festive day is on the 24th of the third lunar month.
Significance:
Long Tiên Pagoda was built quite recently, 1941, and is the largest pagoda in Hạ Long City. The festivities of the pagoda are not reserved solely for Buddhist faithful, but hold a spiritual meaning for every local.
Some locals say that every day is a festive day at Long Tiên Pagoda. Foreign and domestic tourists arrive for sightseeing, while faithful burn incense and recite prayers to Buddha. But it is on the 1st and 15th days of each lunar month that they arrive in greater numbers, and particularly over Têt.
When spring arrives, it is the festive season for the whole region. People call Long Tiên Pagoda Trình (submit) Pagoda. They arrive to burn joss-sticks here first, afterwards to continue on a pilgrimage to Yên Tu Mountain and finally to participate in the festivities at Cua Ông Temple.
Locals organized a procession carrying palanquin pass by Trần Quốc Nghiễn Temple (Ðức Ông Temple) to An Dương Vương Temple in Vung Ðâng via Lồng Tồng then back to the pagoda. It was told that in the carrying palanquin race of the processions many people carrying palanquins run fast seem to fly past the canal like in the tale.
Ha noi
Condition:Mostly Cloudy
Temp: 72 °F| 22 °C
Ho Chi Minh
Condition:Partly Cloudy
Temp: 81 °F| 27 °C
Phu Quoc
Condition:Mist
Temp: 71 °F| 22 °C
Da Nang
Condition:Light Rain
Temp: 77 °F| 25 °C