Quan Lan Festival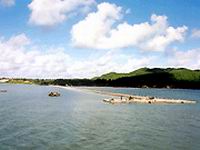 Place: Ðình Wharf in Quan Lạn Commune, Vân Ðồn District
Time: The festivities are organized yearly on the 18th day of the sixth lunar month, but the celebration lasts from the 10th to the 20th days of month.
Significance:
The festival is organized to commemorate the victory against the Mongol invaders in 1288, as well as the feats of Trân Khánh Dư, a famous Trân general. They also pray for good "harvest" from the sea.
Quan Lạn Communal House Festival is the village-wide celebration for the inhabitants of the island community of Quan Lạn: located the central area of the ancient Vân Ðồn Harbour.
The 10th day of the sixth lunar month features the ritual of "closing the village": the inhabitants cannot leave, but those who have moved away and other guests from any corner of the country are welcome.
The festivities of Quan Lạn Communal House are comprised of a traditional rowing competition: villagers are divided into two sides. They establish their particular training grounds on the 13th day of the month in order to prepare themselves. The boats used are ordinary 5 to 6-tonne fishing boats, with lowered sails and dragon-heads carved on the fronts.
The 16th day is reserved for receiving the genies. There is a procession for the funeral tablets of Trân Khánh Dư from the temple to the village's communal house.
On the 18th day at about 3:00 PM (every year at this time the tide reaches the temple's wharf), the boats start. The "soldiers" on one side wear a white jacket and blue pants, while the other group wears gray or black clothing. When the opposing generals meet each other at the communal house, the "soldiers" and spectators shout resoundingly; the noise echoes throughout the region. The two generals make sword-tracings in the air, and the two troops meet each other three times: symbolizing the three victories during the Trân Dynasty. Following the third meeting, they assemble before the shrine, and the rowing contest begins.
The Quan Lạn Communal House Festival bears characteristics of traditional village festivals, but is particularly grandiose, expressing the military spirit of the Vietnamese in the struggle against foreign invaders.
Ha noi
Condition:Mostly Cloudy
Temp: 72 °F| 22 °C
Ho Chi Minh
Condition:Partly Cloudy
Temp: 81 °F| 27 °C
Phu Quoc
Condition:Mist
Temp: 71 °F| 22 °C
Da Nang
Condition:Light Rain
Temp: 77 °F| 25 °C