Yen Tu Festival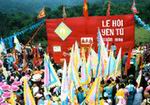 Place: The mountainous region of Yên Tử, Thượng Yên Công Commune, Uông Bí Town
Time: Yên Tử festivities begin on the ninth day of the first lunar month and last until the end of the third lunar month.
Significance:
Yên Tử has been a centre of Buddhism for many centuries, and is the starting point of the Buddhist sect of Trúc Lâm. Travellers to Yên Tử Festival to stay away from the mundane and go on a religion pilgrimage in the midst of the mighty nature.
There is a popular saying about Yên Tử:"Even after 100 years of virtuous religious life, if you don't come to Yên Tử you cannot be called a true religious person".
In the wide ensemble of vestiges in Yên Tử, there are 11 pagodas and hundreds of shrines and towers. One form of entertainment is to climb the peak to where the Ðông Pagoda was built (1,068m above the sea).
On the way, you'll see pagodas, a tower, a stream and a forest. At the top, after having burned joss-sticks, you seem to be lost in nature somewhere between the sky and the earth. When clear, you can perceive almost all of the northeast area from here.
Ha noi
Condition:Mostly Cloudy
Temp: 72 °F| 22 °C
Ho Chi Minh
Condition:Partly Cloudy
Temp: 81 °F| 27 °C
Phu Quoc
Condition:Mist
Temp: 71 °F| 22 °C
Da Nang
Condition:Light Rain
Temp: 77 °F| 25 °C