Cong Tay Island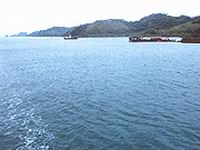 In the Ngoc Vung - Quan Lan islands itinerary, one will visit Cong Tay Island, which lies at the Bai Tu Long Bay, 40 km away from the Bai Chay Tourist Wharf. From Cam Pha, express boats will take you 30 minutes or 90 minutes by common boats to reach Cong Tay Island.
Cong Tay Island is considered the Cinderella in a legendary tale. The Cam Pha Coal Construction and Port Company built a resort in the island to attract holidaymakers.

A system of villas and restaurants lies very close to the beach. Red brick-paved, coconut-lined roads lead from the villas to the beach. Hammocks are available here and there for tourists to relax and view the sea.
Ha noi
Condition:Mostly Cloudy
Temp: 72 °F| 22 °C
Ho Chi Minh
Condition:Partly Cloudy
Temp: 81 °F| 27 °C
Phu Quoc
Condition:Mist
Temp: 71 °F| 22 °C
Da Nang
Condition:Light Rain
Temp: 77 °F| 25 °C