Luon Grotto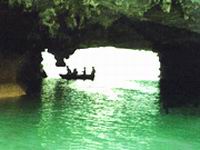 Situated on Bo Hon Island, 14 km south of Bai Chay Beach is the Luon Grotto. In front of the grotto is Con Rua Islet, and the Sky Gate is on the right. Here the cliffs stretch vertically out of the pure blue and smooth water. At the water-level, an arched entrance leads to the grotto, just at the base of the island.
Passing through the pretty entrance, you come across a tranquil round lake, surrounded by luxuriant trees and high dangerous stone walls. Monkeys run to and fro in groups, benjamin fig trees shade the landscape and many orchids hang their sweet-scented flowers. In the lake, many species abound: shrimp, fish, crab and cuttle-fish.

This is an enclosed group of islands. It connects with the sea via a 4-meter-wide, 100-meter-long, and 3-meter-high mouth. Inside the grotto, the 1-km2 brackish lake is surrounded by mountains. On the cliff one still find traces of fossils of fresh-water snails, which prove that men used to live there and this must have been a deep valley then.

The beauty of the site, is the mingling of a number of factors: the mountain's size and form, the colour of the water and the clouds.


Ha noi
Condition:Mostly Cloudy
Temp: 72 °F| 22 °C
Ho Chi Minh
Condition:Partly Cloudy
Temp: 81 °F| 27 °C
Phu Quoc
Condition:Mist
Temp: 71 °F| 22 °C
Da Nang
Condition:Light Rain
Temp: 77 °F| 25 °C