Yen Ngua Islet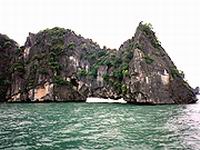 The Yen Ngua or Saddle Islet lies in Halong Bay, in the centre of the World Heritage Area.

Nature has creatively shaped two pieces of stone, one high and one lower, which are linked together to form an imposing rock, looking like a saddle.

Boats can go through underneath. The whole rock resembles a sewing machine. How wonderful to have such a magnificent but elegant "saddle", jutting some 10 m above the sea surface.
Ha noi
Condition:Mostly Cloudy
Temp: 72 °F| 22 °C
Ho Chi Minh
Condition:Partly Cloudy
Temp: 81 °F| 27 °C
Phu Quoc
Condition:Mist
Temp: 71 °F| 22 °C
Da Nang
Condition:Light Rain
Temp: 77 °F| 25 °C