Bai Tho Junk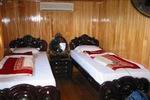 Bai Tho Junk consist of 13 junk boats offering daily and overnight on boat cruise to visit Halong bay. We are not only sell daily joining group seats for tourists but also for lease private Junks. if you and group would like to have private junks, please choose one of our junks and tell us your itineary , we will make up good price for you with hight quality of our services.
- Bai Tho Junks categories:
There are several Junks with different number of cabins on boats.
1 Junk boats with 18 cabins
4 Junk boats with 10 cabins each
3 Junk boats with 07 cabins each
3 Junk boats with 06 cabins each
1 Junk boat with 04 cabins
1 Junk boat with 02 cabins
- Cabin Facilities:
All Junk boats have double or twin bedded cabins with AC, TV.
Private ensuite bathroom and proper toilet facilities with hot & cold shower.
Cabin size is 10m2.
- General Facilities:
Indoor restaurant with excellent cuisine, fresh seafood.
Video recorder, Stereo system, Mobile phone and VHF system.
35 KVA e-generators are set up on boats.
Kayak service.
- Services:
Staff are enthusiasm and professional. Very skillful in food preparation
Ha noi
Condition:Mostly Cloudy
Temp: 72 °F| 22 °C
Ho Chi Minh
Condition:Partly Cloudy
Temp: 81 °F| 27 °C
Phu Quoc
Condition:Mist
Temp: 71 °F| 22 °C
Da Nang
Condition:Light Rain
Temp: 77 °F| 25 °C