Hai Long Dream Junk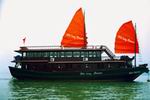 Hai Long Junks offer you the best nights on the board in Halong Bay. Going on Junk, you will have chance to explore the twice world designated natural heritage with 1969 wonderful islands and dozens of beautiful caves with luxury and antique accommodations and perfect services.
Built following the style of ancient pleasure-boat and first put into operation in October 2003
Main engine: YANAMAR 110 CV
Electric generator: DANYO 25 kVA super-soundproof 65 Dexiben
Speed: 12 sea miles/hour
Modern communication system, new life jackets and lifeboat
Length: 27m
Width: 6.8m
- There are several Junks with different number of cabins on boats.
They are: Junk of 8 and 10 cabins, and its cabin & dining table
2 boats with 10 cabins each
2 boats with 08 cabins each
1 boats with 07 cabins
1 boats with 05 cabins
1 VIP boats with 02 cabins (1 double & 1 twin room)
- Cabin Facilities:
All cabins are double or twin bedded cabins with AC, TV. Private ensuite bathroom with hot & cold shower. Cabin size is 10m2.
- General Facilities:
Indoor restaurant with excellent cuisine and freshly daily catch. Video recorder, Stereo system, Mobile phone and VHF system. 35 KVA e-generators are set up on boats. Kayak service.
- Services:
Staff are enthusiasm and professional. Very skillful in food decoration
Ha noi
Condition:Mostly Cloudy
Temp: 72 °F| 22 °C
Ho Chi Minh
Condition:Partly Cloudy
Temp: 81 °F| 27 °C
Phu Quoc
Condition:Mist
Temp: 71 °F| 22 °C
Da Nang
Condition:Light Rain
Temp: 77 °F| 25 °C