Emeraude Junk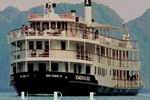 Emeraude Junk offers a regular cruise service on board a luxurious replica steamer with 38 cabins meticulously designed to evoke the nostalgic charm of colonial Indochina.
- General information:
Year in Operation: December 2003
Built by Song Cam Shipyard
Length : 56m
Beam : 10m
Draft : 2.6m
Cabin : 36 luxury Cabins
Engine : 2* 540 HP ( Caterpillar)
Generator:460 KVA
Tonnage: 700 tones
Cruising Speed : 10 nautical knots
- Direction:
14 superior cabins are located on the main deck
22 deluxe cabins and 1 Paul Roque Suite cabin are located on the upper deck
1 Suite Emeraude is located on the Sun desk
- Accommodation:
Each bespoke cabin exudes warmth and character with high standards of workmanship, distinguished style and impeccable service. With its polished wooden floors and brass fixtures and fittings the Emeraude's rooms offer timeless elegance.
- Restaurant and entertainment:
The Emeraude's restaurant offers delicious, freshly caught local seafood and other specialities. While enjoying breathtaking views of the bay, passengers can enjoy the simple and honest flavours of traditional fare.
From the sun deck, passengers can enjoy a soothing foot massage while sipping a refreshing cocktail and gazing at the rock formations reflected in the crystal clear water of the bay.
The Emeraude's huge paddle wheel opens to reveal a swimming deck offering passengers the opportunity to swim in the calm waters of the bay surrounded by the majestic scenery.
At dawn, that most magical time as the sun rises, the soft and graceful movements of a t'ai chi class on the deck complement the atmospheric silence of the bay.
Ha noi
Condition:Mostly Cloudy
Temp: 72 °F| 22 °C
Ho Chi Minh
Condition:Partly Cloudy
Temp: 81 °F| 27 °C
Phu Quoc
Condition:Mist
Temp: 71 °F| 22 °C
Da Nang
Condition:Light Rain
Temp: 77 °F| 25 °C