Bhaya Junks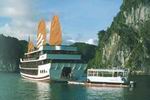 Bhaya junks, pronounced "bay-a", is a splendidly elegant blend of sumptuous old world, Imperial Vietnamese charm with modern luxury, service and refinement. As one of the largest cruise junks on Halong Bay, Bhaya is luxuriously appointed. No expense has been spared in order to recreate the imperial splendor enjoyed by Vietnam's Emperor's as they took their cruises of Halong Bay.
Type: Traditional Vietnamese Imperial-style luxury Wooden Vessel
Cabins: 10 x Twin; 6 x Double Cabins
Suites: 2 x Bhaya Suites; 2 x Royal Suites
Length: 37.2 m (122 ft)
Beam: 8.3 m (27 ft)
Height: 9.4 m (30 ft)
Draft: 1.8 m (6 ft)
Speed: 6 - 10 knots
Launched: 2007
Maiden Cruise: 24 June 2007
- Accommadation:
Bhaya offers four types of intimate, luxury, personal accommodation: Deluxe Twin Cabins, Deluxe Double Cabins, Bhaya Suites and the exclusive, lavish Royal Suites.
All Cabins and Suites are finished in traditional Vietnamese hardwood giving them a rich, luxuriant warmth. The white deck heads, thatched bamboo-matting panels and expansive curtained windows deliver ambient light and views. Hand-crafted hardwoodfurniture, gold and white fittings, white bed linen and soft pastel turquoise bed runners and pillows further enhance the warmth and light.
All accommodations include airconditioning, fans, private toilets and showers (with bath in the Royal Suites), refrigerator, and picturesque ocean views as standard.
Bhaya has six 12.5m2 (41ft2) Deluxe Double Cabins. The four located on 01 Deck are aft of the Bhaya Suites with two each on the port and starboard sides. On 02 Deck, the two Deluxe Double Cabins are located aft of the Royal Suites on either side. The Double cabins feature a 160 x 200 cm (5' 2in x 6' 6in) double bed.
Deluxe Twin Cabin:
The 10 Deluxe Twin Cabins are 12.5m2 (41ft2). There are three located on 01, one on the port side, two on the starboard side, aft of the Deluxe Double Cabins. Seven are located on 02 Deck aft of the Double Cabins, with three on the port side and four on the starboard side. The Twin cabins feature two 80 x 200 cm (2' 7in x 6' 6in) single beds.
Bhaya Suite:
The two Bhaya Suites measure a comfortable 14.5m2 (47ft2) and are located in the for'ard section of 01 Deck on either side. Bhaya Suites feature a 160 x 200 cm (5' 2in x 6' 6in) double bed, sweeping 180° water-level ocean views and direct access to the for'ard public viewing area on 01 Deck.
Royal Suite:
The two sumptuous Royal Suites measure a regal 16.5m2 (54ft2) and are located in the for'ard section of 02 Deck on either side. The Royal Suites feature a 160 x 200 cm (5' 2in x 6' 6in) double bed, panoramic 180° ocean views, a plush sofa and exclusive access to a private viewing area on 02 Deck. The en-suites are resplendent with a deep-soak bath.
- Restaurant & Bar:
Dining room:
Dining is always a premier highlight of any Bhaya cruise. With 12 different Vietnamese and International set menus, the Bhaya buffet serves up exquisite culinary creations in an atmosphere of succulent luxury. The lavish dining room allows for a romantically intimate tête-à-tête only meters from the scenic wonders of Halong Bay, or a festive group banquet in imperial splendor.
Bhaya Bar
The Bhaya Bar adjoins the Dining room and is perfect for a pre-meal apératif. The bar serves fine lagers, liquors, exotic cocktails and pub snacks until late.
- Relaxations:
Beauty Spa and Massage Services:
Relax, revive and re-invigorate the mind, body and spirit. The Beauty Spa is located on 02 Deck aft. A full range of beauty spa and traditional Vietnamese massage services will ensure you disembarked totally refreshed.
Sundeck and Topside Bar:
With its comfortable lounge chairs, fresh ocean breezes and dazzling views, the Sundeck is the perfect place to lie back and relax. Serving up an impressive variety of cocktails in a comfortable, relaxed atmosphere, the Topside Bar is a delightful place to socialize and watch the sun dip behind the myriad islands of Halong Bay.
- Sport & Activities:
Swimming, snorkeling and kayaking in the crystal clear turquoise water of Halong Bay are favored activities for the energetic. Morning T'ai Chi on the sundeck kicks the day off to a meditative and uplifting start. Adventure outings, tour excursions and theme cruises are available by prior arrangement.
Ha noi
Condition:Mostly Cloudy
Temp: 72 °F| 22 °C
Ho Chi Minh
Condition:Partly Cloudy
Temp: 81 °F| 27 °C
Phu Quoc
Condition:Mist
Temp: 71 °F| 22 °C
Da Nang
Condition:Light Rain
Temp: 77 °F| 25 °C