Geographical Location and Climate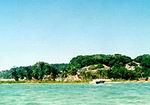 Halong Bay is located in the Northeast of Vietnam, belonging to QuangNinh Province. It is in the coastal area stretching from 1060 56' to 1070 37' east longitude and 200 43' to 210 09' north latitude.
To the west and northwest, Halong Bay stretches from Yen Hung District, and includes the large urban areas of Halong City and Cam Pha Town, as well as Van Don Island District. To the south and southeast, it is adjacent to the western Tonkin Gulf and to the west and southwest lies Cat Ba Island in the province of Hai Phong. On the world map, Ha Long Bay borders to China in the north and in the east it is adjacent to the East Sea.
In 1962, the Ministry of Culture and Information classified Halong Bay as a National Landscape Site, covering an area of 1,553 km2 with 1,969 islands. Halong Bay has been recognized twice by UNESCO as a World Heritage Area for its universal values of landscape, geology and geomorphology, respectively in 1994 and 2000, an area of 434 sq. km. including 775 islands.

The area inscribed by UNESCO (the Protected Area I - the Core Zone) is bound by Dau Go Island in the east, Ba Ham Lake in the south and Cong Tay Island in the east. The Protected Area II - the Buffer Zone is identified by the shore of the Bay running along the National Highway No. 18A, from the Gasoline Warehouse B12 in Cai Dam Precinct to the km.11 marker in Quang Hanh Precinct, Cam Pha Town. The Protected Area III - the Hinterland Zone is the sea or mainland area surrounding the buffer zone, including the area adjacent to the Cat Ba National Park of Hai Phong City.

- Climate is featured humid tropical charactor, including two distinct seasons: hot, humid with much rainning in summer and cold, dry in winter. The average temperature ranges from 150 – 250C with annual average rainfall of 2,000 – 2,200mm/year. Halong Bay has a typical tidal time (tidal amplitude ranges from 3.5 – 4.0m. The degree of salt in the sea water ranges from 31 – 34.5% in the dry season and decreases in the rainy season.
Ha noi
Condition:Mostly Cloudy
Temp: 72 °F| 22 °C
Ho Chi Minh
Condition:Partly Cloudy
Temp: 81 °F| 27 °C
Phu Quoc
Condition:Mist
Temp: 71 °F| 22 °C
Da Nang
Condition:Light Rain
Temp: 77 °F| 25 °C