Ha Long's cultural − Historical value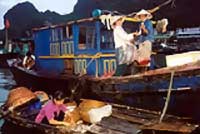 Halong Bay is a home of ancient Viet people.
* Soi Nhu Culture: lasted from 18,000 to 7,000 year ago, concentrated in Halong Bay and Baitulong Bay areas. The typical archaeological remains of this culture can still be found at Me Cung, Tien Ong and Thien Long and include archaeological seashells and fresh shells, some fresh water molluscs and simple work tools. The main living method of Soi Nhu people was catching shellfish, picking fruit, digging roots and bulbs and fishing. This cave-culture is illustrated by traces of mountain snail (Cyclophorus) and stream snail (Melania) and some other fresh-water molluscs. These findings have shown that, in comparison with Hoa Binh -Bac Son culture of the same period, the cultural model of the Soi Nhu people was more developed. This is evident in their adaptation to the marine environment.
* Cai beo Culture: (from 7,000 to 5,000 years ago) is the link between Soi Nhu Culture and Halong Cultures. Within the Halong area some relics from this culture have been found at sites such as Giap Khau and Ha Gian. Cai Beo archaeological relics have proved that our ancestors adapted to the marine environment sooner than believed, developing a great culture which converged with many of the characteristics of other Vietnamese and the Southeast Asian cultures. Cai Beo people made their livelihood not only by the traditional methods of hunting and picking, but also by marine exploitation.

* Halong Culture: (from 4,500 to 3,500 years ago) is divided into 2 stages: earlier and later.

- The first distinctive feature of Halong culture in the earlier stage: was the result of middle-Holocene marine transgression in the period 6,000 to 5,000 years ago. This caused the loss of a habitable environment for the Cai Beo people and resulted in most people moving to the northeast region of Hai Ninh coastal area (belonging to the present day Mong Cai Town) which formed the earlier Thoi Gieng of Halong Culture. Archeological sites of this culture have been found in Thoi Gieng, Go Ba Mung, Xom Chua, and Thon Nam, belonging Van Ninh (Mong Cai Town) which was 6 m above the present sea level. Their main living styles were hunting and picking. Technical knowledge, such as pottery and tool making, had further developed.

- Halong culture in the later stage: (around 4,000 to 3,000 years ago) came about as the result of the period of maximum marine transgression This culture developed with the migration of Halong people into the plains, midlands and mountainous areas. The Halong people's habitats were relatively diverse and included caves, mountain peaks and sand bars. However, the maximum marine transgression caused inhabited areas to become islands and contact between people had to be by boat. So they became marine inhabitants and marine exploitation became the traditional livelihood. Techniques for making labor tools in this stage became more skilful. Soft pottery had become the distinctive 'Halong Pottery'. (Ref: "Halong in the Pre-historic Time" written by Ha Huu Nga and Nguyen Van Hao, published by Halong Bay Management Department, Halong, 2002).

Halong culture in the later stage plays an important role in the ancient Viet civilization.

- Halong Bay- the place where marked the foundation of the nation and its protection.

Halong Bay where maintained the first ancient trade port of Vietnam from the 12th to 18th century.

The book of "Dai Viet su ky toan thu" (the Complete History of Great Viet) states: "In the Spring of Ky ty year, (the second lunar month of 1149) in the 10th century, during the reign of King Ly Anh Tong, merchant ships from China, Japan and Siam called into Hai Dong for trading. They were gathered in Van Don trading port to buy and sell precious goods and present their local products." ("Dai Viet su ky toan thu", 5 sets, Socio and Science Publishing House, Ha Noi – 1998, corrected by Ngo Duc Tho).

Halong Bay is also the place of three glorious victories for the Vietnamese people, on the rivers of Bach Dang, Cua Luc and Van Don. These produced the national heroes Ngo Quyen in 938, Le Hoan in 981 and Tran Hung Dao and Tran Khanh Du in 1288. It also featured prominently in the two wars against the French and American foreign aggressors. Halong Bay has a strategic position for the development of socio, economic and internal security of Vietnam.

The present day fishing community living on Halong Bay also has its own special culture, enriching native Halong Culture. This unique culture is typified by folklore performance such as 'ask and answer' singing, sea chanties and wedding songs. They also have a rich religion. All these things are still as an " open door" or "a fertile land" for researchers and people who respect, and love to discover, traditional culture.

Documents relating to Halong Bay's Culture and History:

1. Soi Nhu, the most ancient culture on Halong Bay, written by Dr. Ha Huu Nga, The National Archaeology Institute.
2. Halong History, written by Dr. Ha Huu Nga, published by Halong Bay Management Department, 2000.
3. Halong in the Pre-historic time, written by Nguyen Van Hao and Ha Huu Nga, published by Halong Bay Management Department, 2002.
4. Quang Ninh Profile, sets 1, 2 and 3.
5. Halong Bay - A World Natural Heritage, published by the Halong Bay Management Department, 2002.
6. Archeological Magazine, published every two months by the National Center for Science, Society and Humanity.
7. Historical Research Magazine, published every two months by the National Center for Science, Society and Humanity.
8. Van Don Island District, written by Do Van Ninh, published by Van Don District People's Committee, 1997.
9. Quang Ninh Landscape, published by the Quang Ninh Landscape Management Board with other related important documents.
Ha noi
Condition:Mostly Cloudy
Temp: 72 °F| 22 °C
Ho Chi Minh
Condition:Partly Cloudy
Temp: 81 °F| 27 °C
Phu Quoc
Condition:Mist
Temp: 71 °F| 22 °C
Da Nang
Condition:Light Rain
Temp: 77 °F| 25 °C