Ha Long's geological value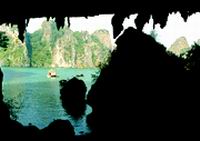 Halong Bay's geological value has been evaluated in two ways: by the history of its formation and by its karst geomorphology.
Formation history: The Halong Bay area has a long geological history, commencing nearly 500 million years ago, stretching through various ancient geological periods involving the processes of orogeny earth movements, marine regression, tectonic down-warping and marine transgression. Between the Ordovician and Silurian periods (500 to 410 million years ago) the area was a deep sea. Later, between the Carboniferous and Permian periods (340 to 250 million years ago) the sea had become shallow. By the end of the Paleogenic and the beginning of the Neogenic periods (26 and 20 million years ago) the area had become part of a great coastal plain. This was inundated again by the sea about 2 million years ago. During the Triassic period, (240 and 195 million years ago) when most of the rest of the world was experiencing hot, dry climatic conditions, the Ha Long region had a hot and wet climate. The decayed remains of enormous forests of tree ferns were the basis of the coal deposits in the area.
Karst geomorphologic value: Ha Long Bay is a mature karst landscape developed during a warm, wet, tropical climate. The sequence of stages in the evolution of a karst landscape over a period of 20 million years requires a combination of several distinct elements including massive thickness of limestone, a hot wet climate and slow overall tectonic uplift. There are various stages of karst formation and remnants of old phreatic, old karstic foot and marine notch caves can be observed. The characteristics of mature karst terrain are Fengling and Fengcong. The conical shapes of fengcong karst form clusters of limestone, having pyramid shapes lying close together with an average height of around 100m, though the highest may reach up to 200m. The conical shapes of fenglin karst are like individual towers having abrupt slopes and reaching heights of between 50 - 100m. The ratio between height and width is 6:1. Conical shapes of fengcong karst can be seen in the groups of hills on Bo Hon and Dau Be islands. The karst fields were formed in different ways, such as: landslide, ceiling collapse of underground river valleys and underground caves ,and by the existence of undissolved stone layers. These karst fields were regularly flooded by the sea.
The underground karst topography is divided into 3 main types of caves:
+ Remnants of old phreatic caves such as Sung Sot, Tam Cung, Lau Dai, Thien Cung, Dau Go and Thien Long.
+ Old karstic foot caves such as Trinh Nu, Bo Nau, Tien Ong and Trong;
+ Marine notch caves such as Luon Cave, Ba Hang and Ba Ham Lakes.
The karst landscape of Ha Long Bay is of international significance and of fundamental importance to the science of geomorphology. The geology of Ha Long Bay is associated with the value of its bio-diversity, archaeological culture, history and other significant values.
Documents related to Ha Long Bay's Geology:
1. The Outstanding Value of Geology of Ha Long Bay, written by Prof. Tony Waltham and Dr. Tran Duc Thanh, archived by Ha Long Bay Management Department.
2. Ha Long in Pre-historic Time, written by Nguyen Van Hao and Ha Huu Nga, published by Ha Long Bay Management Department, 2002.
3. Geological History of Ha Long Bay, written by Tran Duc Thanh, published by Ha Long Bay Management Department, 1999.
4. IUCN's Review Report on Ha Long Bay's Geology, written by Prof. Smith.
5. The Profile of Quang Ninh, set 1.
6. Limestone Karst of Ha Long Bay, the assessment of karst geomorphology of the World Heritage Site of Ha Long Bay by Tony Waltham with other related important documents.
Ha noi
Condition:Mostly Cloudy
Temp: 72 °F| 22 °C
Ho Chi Minh
Condition:Partly Cloudy
Temp: 81 °F| 27 °C
Phu Quoc
Condition:Mist
Temp: 71 °F| 22 °C
Da Nang
Condition:Light Rain
Temp: 77 °F| 25 °C