Ha Long's bio diversity value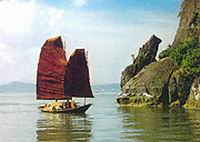 Bio-diversity is an important natural resource and needs to be preserved and conserved to maintain the ecological balance of the whole region. Bio-diversity is the general term used to reflect diversify and abundance in nature and includes all living things.
In Ha Long Bay it can be divided into 2 categories:
1. The tropical forest ecosystem
2. The sea -shore ecosystem
1. The tropical forest ecosystem:
The total number of plant species living on the rugged islands in Ha Long Bay is still not known, as many islands remain unexplored. There are probably over a thousand species of plants, the distribution of which is not uniform. Instead, several different communities (species of plants that always grow together) are found, such as: mangrove, seashore plants, those of the slopes or sheer cliffs, the summit plants and those that grow around the mouth of caves and in gullies. These plant species have adapted to live on the limestone islands in Ha Long Bay. Researchers of IUCN in Ha Noi surveyed the area and found seven rare and unique species of flora in Ha Long. These species have adapted to live on the limestone islands in Ha Long Bay and are not found anywhere else in the world. They are Ha Long cycad, violet chirita, Ha Long fan palm, woolly chirita, Ha Long balsam, schefflera and yellow slipper orchid. According to the statistics of the Institute of Ecology and Biological Resources, the tropical forest ecosystem in Ha Long and Bai Tu Long has 477 magnoliophyta species, 12 polypodiophyta species and 20 mangrove flora species. It also listed a total of 4 amphibious species, 8 reptile species, 40 species of bird and 14 species of animal.
2. The sea -shore ecosystem: including wetland areas and sea ecosystem.
* The wetland ecosystem:
The wetland ecosystem in Ha Long Bay and surrounding area includes 6 sub- ecosystems:
1. Tidal and mangrove ecosystem: It is estimated that Ha Long Bay and its environs contain 20 species of mangrove plant. These mangrove forests of Ha Long Bay play an important role as habitats to many creatures and have a high biological capacity. They provide a home to 169 species of Polycheata, 91 species of cyanophyta, 400 species of fish, 200 species of bird, 10 species of reptile and 6 other species.
2. Hard bottom ecosystem - coral reefs: Coral reef ecosystem is one of the specific characteristics of Ha Long Bay, having a high biological capacity and a water cleansing ability. They are concentrated in the areas of Trai Cave, Cong Do Island and Van Gio Island and other places. Coral reefs here mostly feature fringe lagoons, reef flats - both inside and outside, crest, slope and platform reefs.
At present in Ha Long Bay, it is estimated that there are 232 listed coral species. These belong to the Coelenterate and include Anthozoa (coral class) and Hydrozoa. The coral reefs in Ha Long Bay are the home of 81 species of Gastropada, 130 species of Bivalvia, 55 species of Polycheata and 57 species of Brachyura.
3. Cave and " Tung", "Ang" (Lagoon) ecosystem: This is a special ecosystem. "Ang" refers to the reservoirs, lying among islands; "Tung" is the closed lakes and their smooth waters. These favorable conditions create this special ecosystem, which is such a beautiful feature of the Bay. For example: Tung Ngon is home to 65 species of coral, 18 species of sea- weed, 40 species of benthos and 4 rare species listed in the "Red Book of Viet Nam". Numerous caves and grottoes have been restored for the purpose of conservation and tourism development on Ha Long Bay, though some still keep their primitive beauty.
4. Soft bottom ecosystem: This is a sea-grass ecosystem. It is comprised of only 5 species of sea-grass, however it is the habitat for many other species. It also has the advantages of preventing the creation of waves and cleaning the water environment by absorbing organic waste. It is estimated that, at present, the number of species living in sea grass ecosystem includes 141 species of sea-weeds, 3 species of Polycheata (sand worms), 29 species of mollusc and 9 species of Grustacea.
5. Tidal flats without mangrove forest: are found in the low tidal areas. Molluscs (Shells) and sandworms (Bivalve) are typical species living off the tidal flats and have a very high nutritional value, examples: sea cucumber, Arca granosa and Meretrix. Almost all creature resources of the tidal flats are being over exploited.
* Aquatic ecosystem: This marine ecosystem includes phytoplankton, zooplankton, zoo-benthos and nekton.
1. Phytoplankton: These are the small animals drifting about in the water, they can autotrophy through the process of photosynthesis. They contribute to the dissolution of organic matter and thus help against water pollution. According to the results of site surveys, there are 185 Phytoplankton species in Ha Long Bay.
2. Zooplankton: These too are small animals drifting about in the water, they are the second link in the nutrient chain (next to the phytoplankton). The distribution of Zooplankton is dependent on the water layers and time. It is estimated that there are 140 Zooplankton species in the Ha Long - Cat Ba area.
3. Zoo-benthos: These creatures live on the bottom of the sea and have very high nutritional value. Surveys showed that there are 500 zoo-benthos species in Ha Long area, of which 300 are mollusc species, 200 Polycheata species (sand worms) and 13 Echinodermata species.
4. Nekton: These animals can swim in the water by themselves and migrate to look for food. They breed or shelter in winter. It is estimated that there are 326 nekton species in the Bay.
Species multiply: In 2002 a survey on assessing and auditing Ha Long Bay's bio-diversity was conducted by management authorities and researchers. They surveyed 9 areas in Zone 1 of the World Heritage: Dau Be Island, Hang Trai Island, Bu Xam Islet, May Den Islet, Coc (Toad) Islet, Veu - Dau Go Islet, Ki Da Islet, Soi Van - Van Gio Island and Cong Do Island. First observations revealed that Ha Long Bay had maintained its bio-diversity and species diversity, and more new species were discovered.
Current figures indicate there are a total of 1,847 species and 30 cave-grotto species groups in Ha Long Bay. Almost all the typical ecosystems found in a tropical sea area converge in Ha Long Bay, for example: coral reefs, sea-grass, mangrove forests, and "Tung" and "Ang". Ha Long Bay is home to 189 species of fish, 500 species of benthos, 355 species of plankton, 140 species of seaweed, 7 species of sea-grass and 34 species of mangrove (according to data provided by the 'National Conference on Ha Long Bay Bio-diversity'. [December, 2003, Ha Long City]
3. Diversity of Gene:
Atrina Vexillum
In April 2003, a survey of three areas of Ha Long Bay, [Dau Be, Hang Trai and Cong Do] conducted by Viet Nam and Italy, in cooperation, showed that the Bay is the habitat of some rare species such as: Trochus Niloticus, Techtus Pyramis, Epitonium Scalarare, Atrina Vexillum, Lutraria Rhynchaena, Photololigo Chinensis and Sepia Pharaonis. Particularly, around 19 species of sponge have been identified for the first time. These species not only have a high bio-diversity value but also provide an important marine medicinal resource. Its favorable natural conditions give Ha Long Bay its high bio-diversity value, displayed by the diversity of species composition and gene.
Documents relating to Ha Long Bay's bio-diversity:
1. Ha Long Bay - A World Natural Heritage, published by the Ha Long Bay Management Department, 2002.
2. Eco-tourism Development in Combination with Conservation of Ha Long Bay Heritage Area, written by Prof. Dr. Pham Trung Luong, Deputy Director of Research Institute of Tourism Development.
3. Wild Plants of Ha Long Bay, written by Dr. Nguyen Tien Hiep, published by the Ha Long Bay Management Department, 2000.
4. Reports issued to the National Conference on Bio-diversity of Ha Long Bay World Heritage Site, December 2003.
5. Quang Ninh Profile, Set 3 and other relevant important documents.
Ha noi
Condition:Mostly Cloudy
Temp: 72 °F| 22 °C
Ho Chi Minh
Condition:Partly Cloudy
Temp: 81 °F| 27 °C
Phu Quoc
Condition:Mist
Temp: 71 °F| 22 °C
Da Nang
Condition:Light Rain
Temp: 77 °F| 25 °C